Business advice, accountancy, financial and tax account services
Strategy for businesses
We are genuinely an advisory firm. Our Strategy Series can be a structured process or consist of occasional meetings.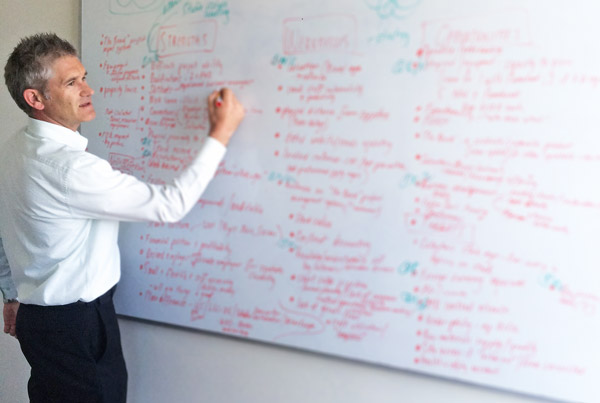 Through our structured process we cover:
Your business and financial aspirations
Worries and concerns
Assess where you are now both with the business and your personal space
The opportunities ahead of you
Barriers to achieving opportunities and success
The functionality (who does what) in your business
We cover all areas of the business including:
Your customers
Capital requirements
Business systems
Taxation
Accountancy services
Employees
Leadership
… and much more!
Supermarkets
Ben's been helping Supermarket operators, New World, Pak N Saves and Four Squares by providing sound accountancy services and business advice.
Typically working in the following areas:
Advice and support on the financial and tax side of the business
Support with getting into a new store including full due diligence on a new store
Preparing projections and forecasts – for Foodstuffs, the bank and for you to measure against
Tax planning so you know what to expect
Ownership structures
Use of trusts to protect your investment and assets
Finance structures
Tax accounts to save tax
Practical support and people you can call for the areas you're not sure about
Strategy – what to do next
All other tax and financial advice
Franchises and Business Buyers
Ben is one of the most experienced franchise accountant specialists in the Wellington region.
Ben has helped clients with many franchises including: Subway stores, Quinovic, Pita Pit, Four Square supermarkets, Speedy Signs, AA, Baby-on-the-Move, Xpresso Delight, Hells Pizza, United Sweets, Just Cabins, Mr Rental, Mr Green, and more.
When buying into a franchise we help clients evaluate a business before they buy. We often do this in stages from:
An initial review
In-depth due diligence
Negotiating a purchase price
Advice on how to structure a sale and purchase agreement
Setting up company
Trust and tax structures
Setting up accounting and payroll systems
Ongoing business advice, strategy support and annual accounts and tax returns.
We have routinely helped clients save tens of thousands of dollars through this process.
Medical/health sector
We have provided accountancy services to many healthcare businesses including medical centres, private specialists in plastic and reconstructive surgery, rheumatology, orthodontistry, orthopaedics, neurology, general surgery, etc.
Some of the areas where we have helped our medical clients are:
Anything IRD related
Preparation of GST and FBT returns
Preparation of annual income tax returns
Tax structures including the issues of IRD market salaries and "Penny & Hooper" considerations
Property and share investment advice
Capital gains verses taxable gains on the sale of assets
Trust and asset advice and administration
Payroll advice and support
Help with finance and cash flow
Residency
Tax
Efficiencies and technology
Embracing technology can save you time.
We believe that if you work smarter not harder you will reap the benefits tenfold in your business and your personal life.
We love getting people on to the right system for them. There is never a one size fits all approach to technology. There are many packages and systems that can easily and affordably be implemented into your workplace. Some examples are XERO, a payroll system and Smartphone Apps that allow you to invoice and receive payment on the job at the press of a button.
Typically, Blair and our team have the expertise to train you in whatever system you need.
Try it, you'll wish you'd embraced technology years ago.
Read our article about How a modern business embraces technology.
Tradies
We're down to earth and practical and know how to speak in chartered accounting plain English.
You can rely on us to give you expert accounting advice, while getting the balance right between giving you all the detail and the 'she'll be right' attitude.
We understand what makes you and your business tick.
Blair can help you with introducing easy, new technology that will make your life on the road at each job significantly easier and more streamlined, keeping you off that dreaded paperwork.
Brian Walshe adds to our various strategic advice and specialist consultancy offerings and is available not only to our clients but also to business owners who may not be clients, for advice and support to build your business's performance, profitability, cash flow and success. Some business owners may like to use Brian Walshe's skills to create a regular advisory board, or for special projects (eg. selling your business for big money or taking on a new venture). Or, just occasional high level advice that is hard to find from other chartered accountants.